Masala boondi chivda" is a spicy, tangy, crunchy snack that is made of boondi (a small, crispy, deep-fried balls made of chickpea flour) and chivda (flavorful mix of dry fruits and spices). This is my favorite Indian snack for munching.
This recipe is very easy and quick to make, and it's perfect for Diwali festival as well as any other occasion!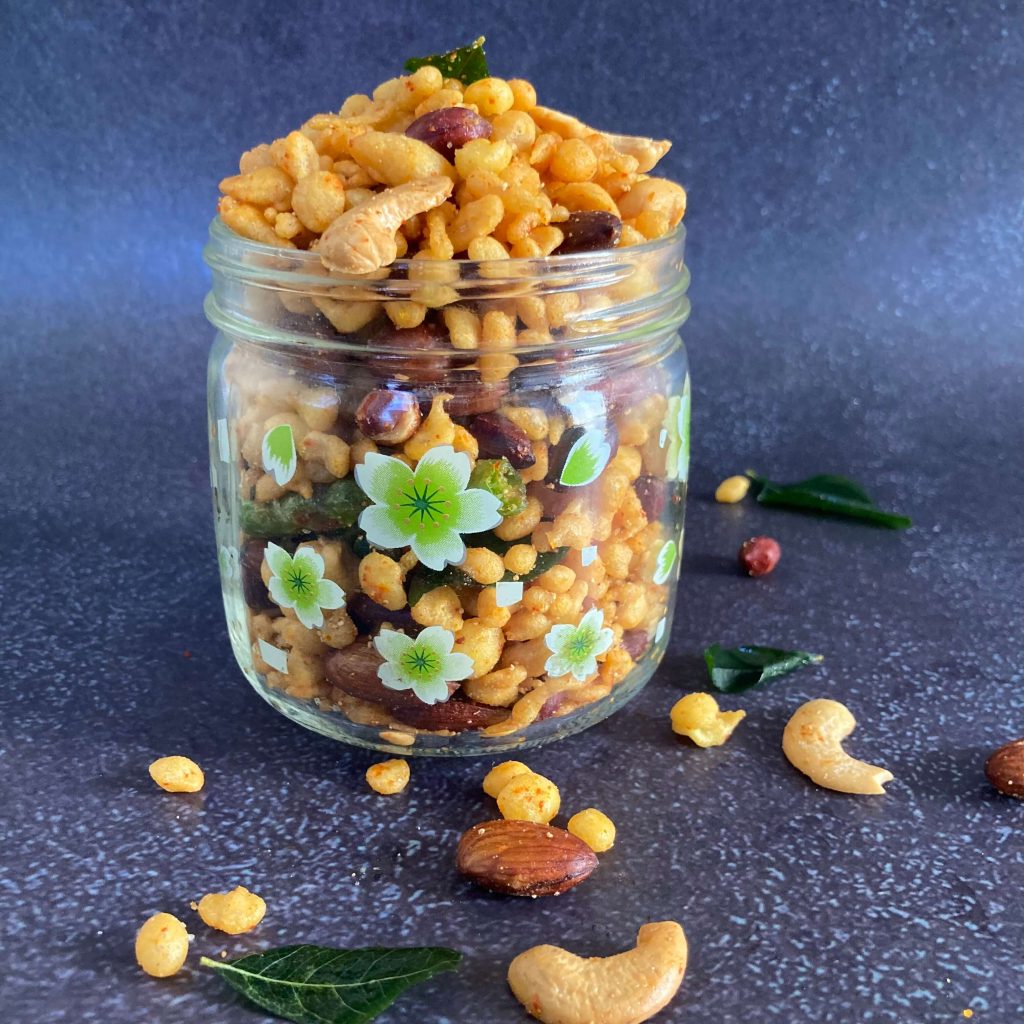 How to make masala boondi chivda
take 1 cup besan (chickpea flour)
add water in to flour and mix well, dont add water at once, add slowly and mix it well.
we need lumps free smooth batter
we need flowing consistency of batter , you will need around 1 cup of water.
once you get smooth & flowing consistency batter , give rest for 10 minutes.
after 10 minutes add 1/2 tsp salt and 1 tsp oil to make boondi soft and crispy. mix all very well.
now batter is ready to make boondi. i am using here grater to make boondi , you can make using jhara.
hold grater on top of the kadai , keep some distance for safety.
oil should be enough hot , and keep your flame slow to medium.
pour little batter at a once and tap on grater, fry boondi on slow flame till slight color change.
by following same method fry all boondi.
now fry curry leaves and green chili first , then fry almonds , cashew and peanuts separately
now every thing is ready lets assemble it.
keep ready your fried boondi in a bowl or plate , add all fried ingredients then add dry masala like salt , black salt , amchur powder , red chili powder and mix it well.
DONE! your crispy tasty masala boondi chivda is ready, keep it into any air tight container or jar and munching on it for a long time.
Notes
you can skip dry fruits if you dont like or dont want to add , just mix curry leaves and fried peanuts it also tastes very nice.
you can add fried flatten rice or poha/corn flakes with masala boondi. Also you can mix nylon sev
you can mix any other ingredietns into this chivda of your choice.
So, here is the recipe for diwali special masala boondi chivda. And our indian festivals are all about eating snacks and sweets. and what are you going to make on this festival don't forget to share with us in comment section.