Diwali Snacks Recipe | Snacks Recipe for Diwali | Snacks Recipe for Diwali 2019
Diwali is one of the most popular Festival, usually it's a great chance to spend some quality good time with your family, friends. almost everyone has holidays on this occasion of Diwali. So also it's a chance to make a travel plan with family either go on one-day picnic. Also you can arrange a small get together party for come close friends and relatives.  And the collection of these snacks recipe will be required whatever your plan.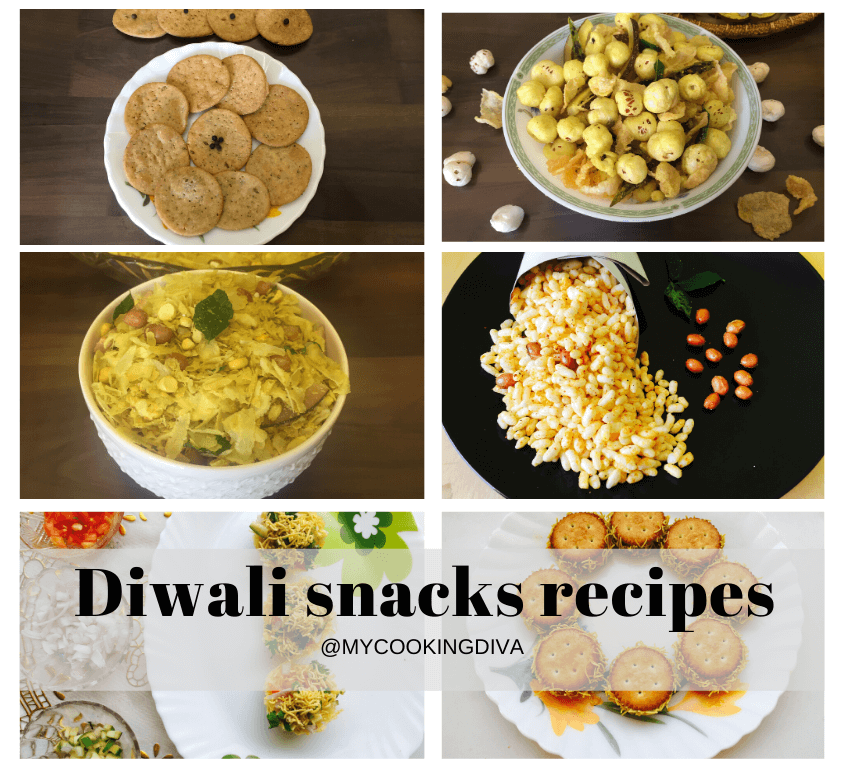 Here is the collection of snacks recipe for this Diwali.
Oats and poha chivda is very nice combination of very healthy oats and nylon poha. It required very less oil so you can store it for a very long time in air tight container.
Usually farsi puri made with maida (plain flour) today I am going to show you here the farsi puri recipe which made with wheat flour.
Makhana (Fox Nuts) Mix Chivda
There are so many health benefits of Makhana so let's celebrate coming festivals with healthy recipes. Today going to show you a very healthy dry snack recipe for Diwali its " MAKHANA MIX CHIVDA"
Cripsy Kolhapuri Garlic Puffed Rice
Very simple yet tasty and crunchy  garlic puffed rice recipe. you can eat as a snacks either mix with your chat , OR make a spicy tangy bhel.
Chat is almost everyone's favorite. Today going to show the chat recipe with some twist, katori in this chat made using potato. See the video for full recipe.
All of we are very known with different types of sandwiches. It's a very common and very popular street food. At home also we are making different types of sandwiches. Today I am going to show you a yummy recipe elders and kids both loves it so much. So today's recipe is Monaco Biscuit Sandwich It is really very easy and quick to make, it required common ingredients yet it turns very tasty. The combination of Crisp and softness in this sandwich is just amazing. So let's see the recipe inside the video.
Wishing a very happy Diwali to all my reader and friends! Happy Cooking and yes don't forget to share your feedback in comment section below about the recipes.
And also subscribe MyCookingDiva on YouTube  and press the bell icon so you will get a notification of every new video.