Let's see the very healthy version of Gujrati Khichdi. Today I am going to show you very healthy and easy recipe its Palak Masala Khichdi.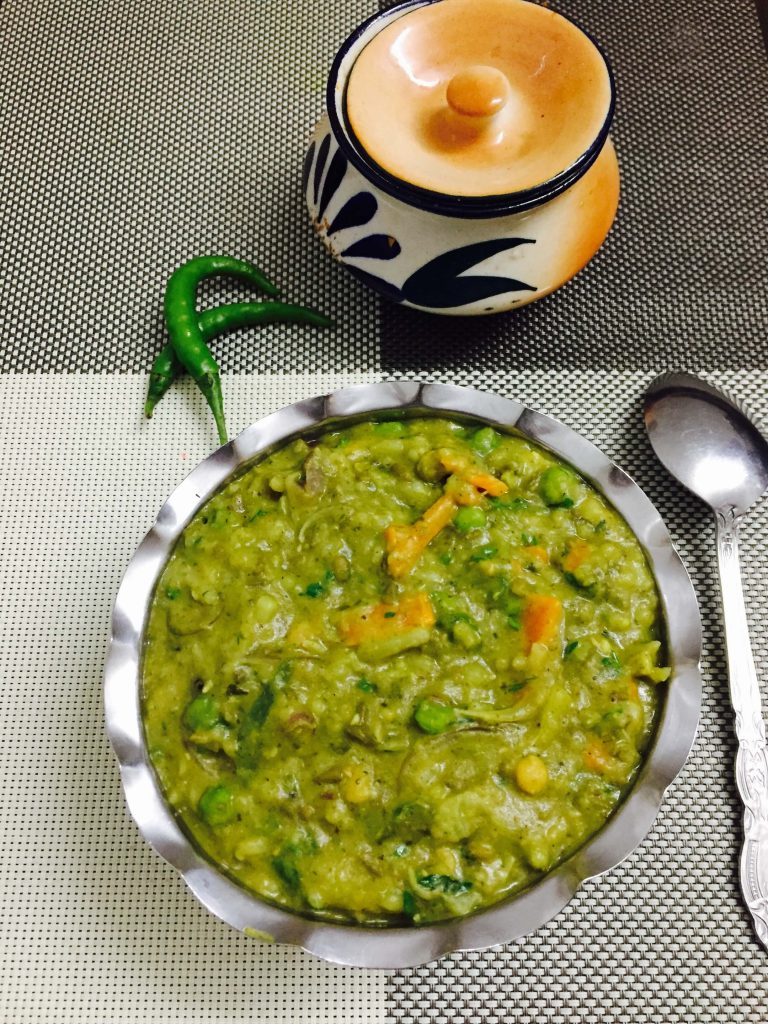 Its very easy to make so let's get started from ingredients.
1 cup – rice
½ cup  – moong dal
½ cup – tuver dal
1 – carrot
1 – potato
2 – capsicum
1 large – onion
1 – cup cabbage
3-4 TSP – butter
Spinach 1 bunch
2-3 cloves
1 star anise
1 – cinnamon
2 – ilaichi
2 TSP – ginger – garlic – green chili paste
Salt as per the taste
1 TSP – turmeric powder
1 – cup – boiled green peas
1 TSP – ghee
First of all wash the rice and dal very well and soak it for 10-15 minutes. Wash the bunch of spinach and make the paste. After 10-15 minutes in  a pressure cooker add soaked dal and rice , spinach paste, pinch of salt and let them cook up to 2-3 whistle.
Other side chop the vegetables in thin slice. In a heavy bottom pan add butter, let it melt. Now add cinnamon, star anise, cloves, ilaichi.
Add ginger – garlic – green chili paste , chopped vegetables , salt as per the taste, turmeric powder. Cover it and cook up to 4-5 minutes.
Now add boiled khichdi , boiled green peas , and ghee, mix all very well. That's it the delicious and healthy khichdi is ready to eat. Serve with gujrati kadi Or dahi.
Must have to try this healthiest version of khichdi.