Bird Nest | Potato Snack Recipe | Easy Snack Recipe | Bird Nest Snack
Potato Bird Nest Cutlet Recipe is really amazing kids friendly recipe. Its very nice in look as well as in taste. You can make this one anytime , it requires very less ingredients so you must try this one for your kids. Give surprise to your kids by making this Potato Bird Nest Cutlet Recipe and just see their expression you will love it.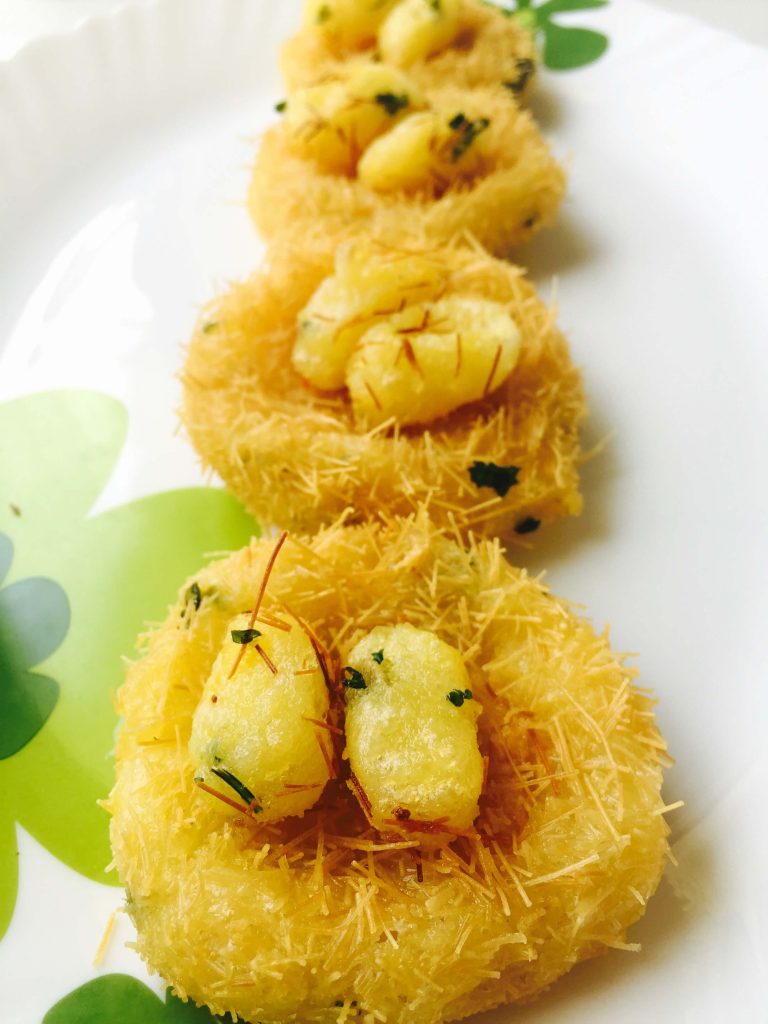 So let's get started
4 Boiled potato
2 cup – vermicelli
3-4 tsp – corn flour
 ½ cup chopped coriander
1 – chopped green chili
2 tsp – lemon juice
1 tsp – salt
Oil for frying
Note :-
First of  all in pressure cooker boil all potatoes , let them cool down and peel it.
In a mixing bowl mash all potatoes using masher very well.
Other side heat the oil in a pan for deep fry.
Now add coriander , chopped green chili , salt and lemon juice in mashed potato and mix all very well.
In a bowl take a vermicelli and break it using hand in very small pieces .  in other bowl add corn flour , add water as required mix it well and make smooth paste without any lumps.
Now with hand make a small ball from potato masala, give the nest shape as shown in Video
Coat that shape with corn flour paste, then coat with vermicelli . Repeat the same process for other shape.
Take some potato masala and keep a side.
Now on medium flame fry all shapes in hot oil , stir between and fry until they starts to turn light golden brown.
Now from remaining potato masala make a small size ball and coat with corn flour paste. In same  oil fry it for 2-3 minutes.
Now take all nest shape in a serving plate , put the small balls on that shape, now it looks like a bird nest.  So now its ready to eat enjoy with ketchup or alone. To give different flavor pour some GREEN CHUTNEY and enjoy.
Hope you like the recipe , share your feedback in comment section
Thanks for taking your valuable time for reading this blog. Happy Cooking 🙂