Spinach Sandwich | Cheese Sandwich | Cheese Corn Sandwich Recipe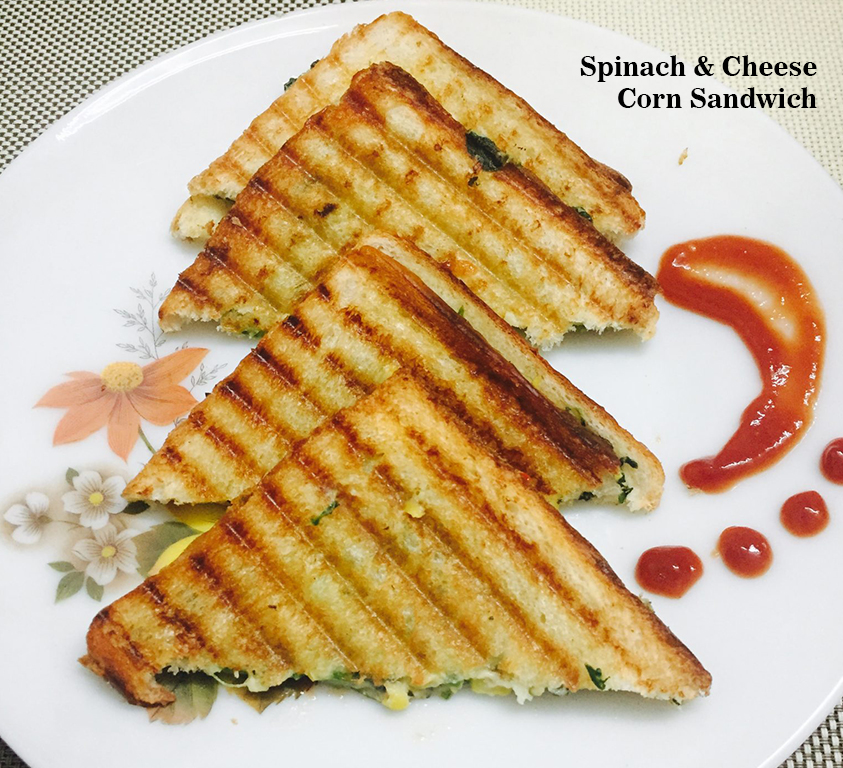 Sandwich is all time favorite. the  most beautiful thing of sandwich is you can eat it in breakfast , in lunch  or Dinner. also you can have it as a snack or in tiffinbox. Today here presenting the very delicious sandwich recipe is Spinach & Cheese Corn Sandwich.
Let's first see the ingredients :-
3-4 Cup chopped spinach
1 Tsp – Sugar
3 TSP – All purpose flour
4-5 TSP Ghee
3-4 Cup – milk
4-5 TSP Butter
3-4 Cup – Boiled corn
2 Cup – Chopped Capsicum
1.5 Tsp Salt
chili flakes
3-4 Cheese Cubes
Bread
Let's start to make it :-
First boil corn in the pressure cooker, chop spinach, chop capsicum keep a side.
Add the spinach and 1 tsp sugar in boiling water , let it boil for 2-3 minutes, then drain the water and keep a side.
heat the nonstick pan add butter let it melt , add boiled corn, chopped capsicum and boiled spinach, add salt mix it well. cover and cook for 5 minutes.
heat the nonstick pan add all purpose flour, add ghee and make a smooth paste, add more 1-2 tsp ghee if required to make a lump free smooth paste.
Now add milk and stir it well make sure there is no lump should remain.
now add the cooked corn, capsicum and spinach into the white and mix it very well.
Add chili flakes , grate the cheese and mix it.
Take bread slices apply butter  and stuff .  set that bread in grill machine, apply butter on the top side of the bread.  let the bread grill till it turns in golden brown and crispy.
Yeeee! your cheesy spinach corn sandwich is ready serve with green chutney or ketchup whatever you like.
Take a look at other healthy and delicious Spinach/PALAK recipes