Hello Friends! How are you??
What is next day's breakfast planning? Nothing!!  then here is the recipe start to note down.
Today i am here with very tasty & healthy recipe of  Gujrati bateka Poha .  its very popular and easy to make dish.
it happens many times that poha become slightly hard. The main thing in this recipe is I will show you how to keep poha soft for a long time. 
Let's see the ingredients first
250-300 g – poha
1 – medium potato
1 – onion
2 tsp – salt
2 tsp – sugar
3 – green chilli
8-10 curry leaves
1 tsp – turmeric powder
2-3 spoon – oil
1 bowl – water
1 – lemon
1 tsp – mustard seeds
1 tsp – cumin seeds
coriander for garnishing
How to make
first wash the poha properly in Colander ( it is utensil with holes used to rinse water for vegetables, fruits etc.  you can  buy it from : https://amzn.to/2z4aCJ8)  keep the poha in Colander for 5-10 minutes.
Now chop the onion, potato, green chili one by one.
heat the pan on medium flame, pour the oil add mustard seeds and cumin seeds. let it splutter.  now add curry leaves, onion, potato & green chili, turmeric powder. mix it well and let it cook on slow flame till all these ingredients cooked properly.
till that take a small bowl of water, add lemon juice, salt & sugar mix it very well and keep aside. ( This water will keep the poha soft for a long time.)
now check in a pan if onion and potato cooked well then first add the water which shown above and mix it very well.
now add the soaked poha. mix very well all these things and off the stove.   Your poha is ready !! take out in a plate garnish with coriander and serve it.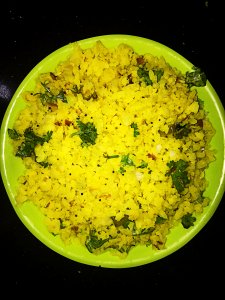 Enjoy your poha in breakfast or with evening tea/coffee . Also, you can pack it for a lunch it will stay soft for a long time.
Notes & variation
add other vegetables with potato and onion-like cabbage, mung sprout, beetroot, carrot to make your dish more healthy.
you can adjust the quantity of sugar & salt as per your taste.
Do not take a nylon poha to make this dish
So how's the recipe? must try it at your home & let me know in a comment.  See you with the new recipe very soon.