We all Indians love to eat Sweets.  any occasions, celebrations and festivals not complete without the sweets. Today I am going to share here a Dessert which actually made without sugar (I think Your expression is !! what??) Yes this sweet is without sugar so its healthy . Now you are thinking that how its possible to make a Indian sweet without  sugar right??? Also there is no milk powder OR condensed milk
Let me show you.
Ingredients
1 litter – full fat milk
4-5 TSP – Rose Water ( I have used home made you can use any branded rose water)
3-4 TSP – Honey
Wheat Bread Slice
3-4 cardamom powder
1 TSP – Grated beet root
Heat a heavy bottom kadai or pan pour the milk and let it heat on medium to low flame.
When you see that cream floating on top , gently move cream layer with spatula and stick it to the side of the pan.  Follow the process when you see the cream floating on the top. Many time this process has to be follow.
Stir the milk occasionally to prevent milk burn from the bottom.  (Make sure stir the milk occasionally not continuously otherwise you will not get the layers of cream.
The milk will reduced half of its original quantity. Now switch off the gas and blend the milk to mix the milk and cream very well. You can see that milk becomes thick now. There is no need to add milk powder or condensed milk.
Now let cool the milk then add , honey , grated beet , rose water and mix it very well , sprinkle cardamom powder and put it in fridge for 15 minutes
Now take a bread slice remove the boarders, cut it in triangle OR round shape.
Now heat the non-stick tawa, greese some ghee on tawa and cello fry the bread till it turns light brown.
Take fried slice in plate.
Mix 2 tsp of rose water and 1 tsp honey. Pour this syrup on bread slice , and pour the chilled milk on the bread slice. Place some rose petals and serve this delicious sweet.  Make sure that don't prepare the bread slice with milk in advance , it should be served instant.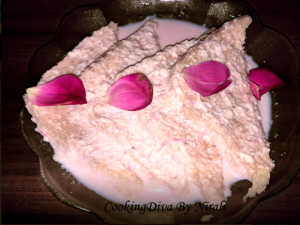 You can add kesar instead of rose for "Kesar – Elaichi  Flavor "
Enjoy !!